As high school teachers, the parents of a high schooler and world travelers, we have a lot of experience traveling and talking about travel with young people. Here are our 18 senior trip ideas for places to travel to celebrate with your graduate.
High School graduation marks an important coming of age moment for students and families. And a senior trip offers an opportunity to mark this important moment.
Some of the links in this blog are affiliate links. If you click and purchase, we will receive a commission at no extra charge to you. We only recommend activities or places we have experienced, and all opinions are our own.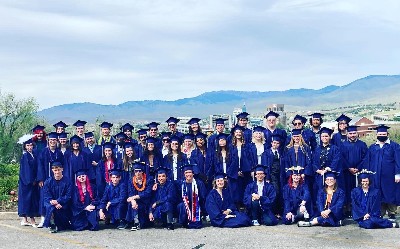 What is a Senior Trip?
Traditionally, a senior trip is an opportunity for seniors to have one last experience together as a class before they graduate. In this traditional notion, senior trips are something your senior organizes with their friends.
However, with travel being more accessible to more people, the idea of a senior trip as a special trip taken by a family to celebrate their child's graduation is fast growing in popularity. Therefore, we have chosen to list our ideas by location not by type.
When to Take a Senior Trip?
Senior Trips are traditionally taken in late May or June soon after the graduation ceremony. Some school districts still allow for senior weeks prior to graduation where students have a few days before graduation to travel or stay together. However, these are far less common.
What is the Criteria for a Good Senior Trip Destination?
All of the places listed here we have traveled to with our own teens. We have also used our "access" to hundreds of teens over the years to talk not only about our travel, but places they would love to see and experience. So each of these locations is full of teen-friendly activities.
However, for each location, we have noted if this trip would be possible for a senior-only trip without parents. We are basing our "senior-only" recommendations on the following criteria: good public transit and hostels.
Good public transit is an extra important criteria in part because teens aren't old enough to rent a car. While rideshare platforms like Uber and Lyft may also be possible, these platforms also have age restrictions potentially making them unusable by independent travelers who aren't 18 or older.
Age Consideration for a Senior Trip: Restriction on Accommodations, Cruises and Rideshares
Neither Uber or Lyft allow passengers under 18 to have an account. Now, let's be honest, we all know teens under 18 that use rideshares. But if a driver suspects a rider to be under 18, they have the right to require age verification before completing the trip.
Similarly, most overnight accommodations require guests to be 18 or older. In essence when you are checking into a hotel or a hostel you are signing a contract. And you must have legal status to make that contract valid.
Therefore, if your child is 17 when they graduate and wants to go on a friend-only senior trip, there will need to be a minimum of one person over 18 who is doing all the accommodation booking, Lyft calling, and hotel or hostel registration. Which means that that person assumes responsibility. Yikes. Definitely something to consider if your kid is the sole 18-year old.
Additionally, some places that are perceived as more party places — think Spring Break hotspots – will actually require that guests be at least 21. So, if your graduate is thinking of heading to Cabo, they probably won't be able to find a hotel to let them stay there.
Cruises are also out for friend-only graduation trips as cruise lines require passengers traveling alone to be over 21.
Finally, and most importantly, according to the U.S. Customs and Border Protection (CBP), minors may be able to travel without their parents internationally. Although "They may, however, require a notarized written consent letter from both parents."
Moreover, CBP recommends that "Minors interested in traveling without their parents should contact the embassy [of the country they wish to visit] to address admissibility questions."
What Type of Travel is Typical for Senior Trips?
While senior trips were traditionally beach vacations (think Spring Break), seniors and their families today are branching out and traveling in different ways to celebrate this important milestone. So for the most part, we have left the beaches off this list.
Unforgettable Senior Trip Ideas
Grad Nights: The Ultimate Graduation Trip Idea
Both Disneyland and Six Flags have Grad Nights. These nights are absolutely tailored to your graduate. I mean clearly they are called "Grad Night."
However, with both programs, your graduate's school must register for the event. Tickets are purchased from the school so that the parks can verify that the event is only for high school grads. Graduates who are interested in this option should get their schools on board early as school spots, especially for Disneyland, sell out in the early fall.
But if your school was one of those lucky enough to book either a Disneyland or Six Flags Grad Night, let's get into it.
Disneyland Grad Nights
Although Walt Disney World ditched their Grad Nights way back in 2012, Disneyland still offers these popular nights where grads take over the park. While mostly frequented by local graduates, schools from all over the US can organize Disneyland Grad Night trips.
Offered on 15 nights throughout May and June, Disneyland Grad Nights have 3 different ticket types. The least expensive ticket, which is around $100 per person per night, gets grads into an after hours party at California Adventure.
If your grads want full day access to California Adventure, plus the after hours party, ticket prices go up to around $130. Add a hopper ticket to Disneyland and the tickets shoot up to over $200.
But can the magic of Disney really have a price? Oh wait, it does. But, while the tickets for this night are locked in, there are still ways to plan a trip to Disneyland on a budget, including taking the cheapest way to get from LAX to Disneyland.
Six Flags Grad Night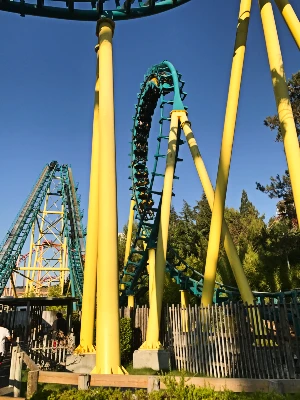 Not to be outdone, Six Flags locations also offer an after hours Grad Night. At the Six Flags party, the park is only open to those students and chaperones with a grad night ticket.
Grads can enjoy thrilling rides, DJs and dance floors throughout the park and yummy food. However, unlike Disneyland with its dozens of nights, Six Flag locations have 1 or 2 nights in either May or June dedicated to this event.
Tickets vary based on the Six Flags location. And grads with a Six Flags pass still need to buy a special event ticket.
So What If My School Didn't Book a Grad Night Experience?
Of course, senior trips to both of these parks and to others can certainly happen outside of these special nights. Although these nights are tailored to graduates, any night in Disneyland is….well, magical.
Graduation Trip Ideas in the United States
Even if the United States is home, there is still so much to see and do to make a special graduate trip in the country. From the beaches of Los Angeles to the stages of Broadway, a US trip is a great way to start your graduate on their next American dream.
Los Angeles
Los Angeles is perfect if your graduate is a fan of beaches, movie stars and of course….Disney. If Disneyland is your destination, check out our post on Grad Night at Disneyland. Otherwise, with beaches, sunshine and great eats, there is truly so much more to Los Angeles than the Magical Kingdom.
If your graduate is thinking of a friend-only trip to L.A., a few words to the wise. While we use public transit whenever we are in Los Angeles, families are justified to be a bit leery of sending your new graduate to L.A. on a friend-only trip. L.A. is after all a very car-heavy city.
So, for the graduate who is dreaming of some friend-only time in the California sun, we definitely recommend Venice Beach. A short ride share from LAX, graduates can enjoy bike riding on the beach or people watching at the skatepark. Venice Beach also has some great hostels. And once you get there, a bike is all your graduate needs to get around.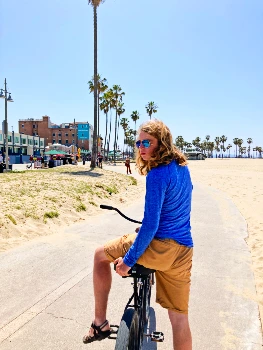 Denver
While senior trips are traditionally taken in May or June, we can't help but put an early senior trip recommendation on the list. While Denver is one of our favorite US cities year-round, a ski trip to really lean into that senioritis during your graduate's last Spring Break is also a great idea.
With its proximity to the mountains, Denver has numerous ski resorts within 60 miles of the city. Never skied before, check out our list of the best ski resorts in Colorado for beginners.
While we definitely recommend a family trip to the mountains to celebrate the impending milestone, a ski trip to Colorado is also possible for a friend-only trip.
Breckenridge is the best resort for a friend-only ski trip as it has the Bivvi hostel. And graduates can book a shuttle directly from Denver International Airport to Breckenridge.
New York
What graduate wouldn't want to celebrate their achievements in the Big Apple? With great entertainment, great food, and a beautiful skyline, New York is an exciting place to celebrate the achievements of your graduates.
And of all the U.S. cities, New York is one of the easiest to navigate using public transit. And for that reason, New York is also a great location for a friend-only senior trip.
Of course, hotels in Manhattan are known for their high prices. But if your graduate is open to dorm-style accommodations, the city can be theirs for around $60 a night.
Hawaii
If island time is your graduate's idea of a dream trip, we definitely recommend Kauai. With its rugged landscape and opportunities for adventures, Kauai is a perfect place to unwind after the busy weeks leading up to graduation.
Even a short 3 days in Kauai is an excellent graduation trip.
And trip to Kauai should involve two things, bike riding and kayaking the Wailua River to Secret Falls. And we can help you with both.
But we definitely do not recommend Kauai for a friend-only trip. While there is public transit on the island, a car is really necessary to get around the island.
Alaska
The wild open spaces of Alaska are a monumental place to welcome this new phase in a graduate's life. From the bears of Denali National Park to the whales of Seward, Alaska is definitely a must see for any nature-loving graduate.
Our 10-day itinerary takes you from Fairbanks to Denali down to Seward and then Anchorage. Our trip was all done by public transit so the trip could be replicated on a friend-only trip. Or is an excellent trip with family.
And while HostelWorld, which is the platform we use to book hostels, only has listings in Fairbanks and Anchorage. There are several independent hostels in Seward and Denali, the two other stops on our itinerary.
Graduation Trip Ideas in Central and South America
With the exception of Mexico City and Peru, several of these locations are perfect for your beach loving graduates. We love traveling in Central and South America not only because it is much more budget friendly than Europe. But also because it allows us to expand our knowledge of diverse cultures.
Be aware that the ideal time to travel to Central and South America is really December-April. By May and June, many of these locations may be getting pretty hot as you are going during the dry season.
Mexico City
We love Mexico City. It is truly one of our favorite cities in Central and South America. With amazing street food, charming neighborhoods, and the most museums per capita of any city in the world, Mexico City is a truly remarkable place to spend 3-4 days.
While Mexico City is a megalopolis, as long as you and your graduate are smart travelers, Mexico City is safe. If you have concerns, pay special attention to the Mexico City neighborhood where you and/or your graduate stays.
We love the Historic Center, but others prefer La Condesa or Roma. And with numerous hostels and a great public transit system, Mexico City is also a good option for a friend-only trip.
Belize
Easily accessible from the United States and English speaking, Belize is an easy first international trip for US travelers. And for those who are looking for a warm vacation will be rewarded with coral reefs, delicious pupusas, and days and days of sun.
If you are making your way to the islands and are on a budget or want to travel more sustainably, we definitely recommend taking the water taxi over a flight.
Not only does the water taxi offer significant savings, you have an opportunity to travel with the locals. And who knows, a dolphin might decide to befriend your boat as one did with ours.
Costa Rica
For your animal-loving graduate who doesn't necessarily love the cold of Alaska, Costa Rica is an excellent choice. One of the most biodiverse countries in the world, Costa Rica is the perfect place to shake off the stress of the past few months and live life "Pura Vida."
The two coastlines of Costa Rica are so different, we recommend traveling to both. But if you don't have as much time as we do in our 10-day Costa Rican itinerary, then we definitely recommend the Caribbean side.
While most blogs will recommend Manuel Antonio National Park, this beautiful area has struggled under overtourism. So we recommend heading to Puerto Viejo instead where the vibe is everything.
Peru
One of our most unforgettable trips in all of our years traveling together as a family has been our time in Peru. While we definitely don't recommend this trip as a friend-only experience given the more complex travel moves, we can not say enough of how important this trip has been to us.
Whether you go as long as we did on our 3-weekPervian itinerary or just focus on Cusco and Machu Picchu, we promise that your time in Peru will be an amazing send off to your graduate.
Graduation Trip Ideas in Europe
We have taken our own teen to Europe numerous times. And certainly recommend so much of the continent to you. With its excellent public transit system, amazing food, and noteworthy sites, any graduate would be thrilled to mark their achievement in Europe.
But please note that June starts the high season in Europe so if you are planning a traditional senior trip in May or June, earlier is definitely better.
Italy
We love Italy for a trip with teenagers. With its iconic architecture, renowned sites, and delicious gelato, there is so much here to experience. We have a 7-day Italy itinerary with teens that is perfect for a senior trip. The entire trip is taken on high speed trains, so our itinerary could also work for a friend-only trip.
Regardless of where in Italy you travel, we definitely think Rome should be at the center of your time in Italy. Rome has so many experiences for teenagers. And like the other European cities on this list, Rome has great hostels and public transit making it especially great for a friend-only trip.
Paris
Paris is a wonderful senior trip either as a family experience or a friend-only trip. With numerous high quality hostels in Paris and extremely comprehensive public transit throughout the city and countryside, the city of lights is a smart choice for graduates to explore on their own.
While June starts the high season in Paris, there are still ways for families on a budget to experience the city. And since your goal of a trip to Paris will be to immerse your graduate in all the art, architecture and culture, we definitely recommend the Paris Pass as a way to save money while taking in all the sites.
Scandinavia
Some of the best European cities are found in the Scandinavian countries, including our favorite of Copenhagen, Denmark. Scandinavia's family-friendly culture (and its love of our favorite mode of transit, the bike) make it an uplifting place to have one more family holiday before your graduate leaves home.
In addition to Denmark and Sweden, our Scandinavian itinerary includes a stopover in Iceland through Icelandic Airlines' free stopover program. Iceland has grown in great popularity over the last few years.
While we have loved our time in Iceland, most tourists need a car to see this island nation. While one can also see the country through bus tours, this dependence of cars to see the ring of the island makes it a less good friend-only trip.
Spain
Spain is truly one of our favorite countries. And the perfect location for a senior trip. From its vibrant city of Madrid to the architectural wonder that is Barcelona, your senior will love the food, culture and overall vibe that is Spain.
Madrid is definitely the easiest city to base out of in Spain. The city itself has so much to see and do from more cultured experiences at the world famous art museum, The Prado, to more teenager focused experiences like the amusement park, Parque de Atracciones.
However, one of the great advantages of Madrid is its high speed trains. Whether it is the medieval city of Toledo or the seaside city of Barcelona, all of Spain can be easily accessed by train from Madrid.
In Madrid city center, there is also a unique Art Seven Hostel Capsules, where your senior can rent their own capsule to sleep. Yep, you heard it right…a capsule. Making Madrid specifically a great place in Spain for a first-timer trip with friends.
Budget Senior Trip Ideas
Camping
Out here in the West, a weekend camping trip is the way our own senior students celebrate their graduation as a class.
Camping is the perfect senior trip in that it allows students to use their own transportation and no accommodations are needed beyond that old, trusty, nylon tent.
And is there a better place to say your goodbyes, then out under the stars with a fire roaring and that one talented friend playing away on her acoustic guitar?
Day Trips
While everyone loves to spend a night away, day trips are another great budget choice for seniors to celebrate with friends.
In our town of Boise, Idaho, graduating classes can drive a few hours to 470 foot sand dunes at Bruneau State Park or head to Lucky Peak Reservoir to spend the day at the lake.
A great day trip is less than a 2 hour drive, but has a different feel than the everyday. For coastal places, a day trip could be an all-class trip to the ocean. For those in the West, it could be a day in a National Park.
Staycations
It really isn't about the distance, but the memories. And staycations are a great chance to organize a trip to make some final memories. Some of our graduating classes senior staycations have included:
Bowling
Indoor Laser Tag
The Area Zoo
Miniature Golf
This list is also great for "senior skip day," but don't tell anyone that this teacher promoted that tradition.
A senior trip is a great way to celebrate this important milestone in your child's life. Whether it is a friends only trip or a family affair, making memories through travel is always, always a good idea.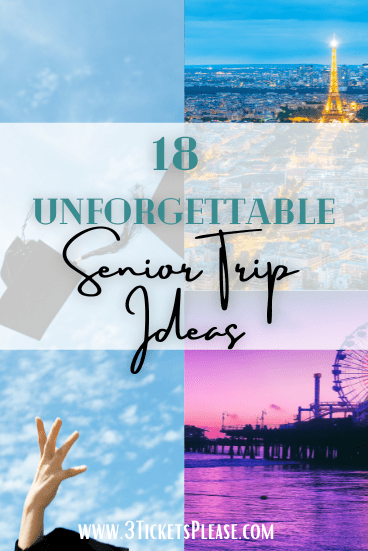 Need other ideas for best travel gifts for teenagers. We have 60+ ideas for every type of teen.
FAQs
Should I take a senior trip with friends if I am 17?
There are many travel restrictions for minors, including booking a hotel and using a rideshare. Traveling without your parents once you turn 18 eases many of those restrictions.
Minors who want to plan a senior trip might consider traveling locally.
Are senior trips only with friends?
While senior trips are traditionally thought to be trips or events for graduates and their peers, more and more families are taking senior trips with their graduates to commemorate the event.