Mexico City is one of our favorite international cities in the world. With over 150 museums, distinct neighborhoods and amazing food, we think everyone should spend some time in this city. And while we would also recommend more time, this post contains our best recommendations for what to see in do in Mexico City in 3 days.
Where to Stay in Mexico City
The best neighborhood in Mexico City is hotly debated. And we certainly have our opinions about the best neighborhoods to stay in Mexico City. For us, the Centro Histórico is the best neighborhood for both the first time and budget travelers.
However, many travelers to Mexico City chose to stay in either La Condesa or Roma. These two adjoining neighborhoods are particularly good for solo travelers as they tend to be the safest neighborhoods in the city.
We are also big fans of Coyoacán (which means place of coyotes in Nahuatl). Formerly a rural village that the city grew into, Coyoacán is a quiet pocket of art and history.
Coyoacán is also home to Frida Kahlo's Blue House. However, Coyoacán is a bit further out then the La Condesa, Roma or the Centro Histórico so it may not be for everyone.
Getting Around Mexico City Using Public Transit
Using public transit is just one strategy among many of our family budget travel tips. And in Mexico City, we used all 13 of our strategies to make this weekend getaway to one of our favorite cities in the world possible.
So hear us when we say: public Transit in Mexico is inexpensive and easy to navigate, especially the metro.
Mexico City has a very comprehensive metro system. The metro has 12 train lines that criss-cross the city. The lines are both numbered and color coded. So for example, line 5 is the yellow line and line 8 is the green line. You get the point.
The metro is very well sign posted and easy to navigate. And it is also very inexpensive. The fare for riding the metro is 5 pesos for one trip. Roughly .25 cents US.
However, there are two important things to know when you are new to Mexico City's metro system. The first thing is that they don't announce stops, so pay attention so you can get off at the right stop.
Second, the metros can get extremely busy during peak times. Mexico City is one of several cities, including Rio de Janeiro in Brazil, that has set aside some cars during peak times for women and children.
These segregated cars are to help prevent sexual harassments. While instances of sexual harassments are on sharp decline, women traveling alone should take advantage of the safe space.
The public transit system also includes the Metrobus and Ecobici city share bike rentals. We love exploring new cities by bike so the Ecobici was one of our favorite things in Mexico City. Read more on our Day 2 about how we used Ecobici to explore La Condessa.
The Metro, Metrobus and Ecobici are all connected through the Mexico City Metro Card. The card can be bought at the window at any metro or light rail station. You can also buy the card at the Metrobus stations using their machines.
The Metro Card costs mx$15 pesos. When you first purchase the card, you pay the mx$15 pesos plus what ever amount you'll need to use public transit. The card is then refillable at any places/stations where you can purchase them.
Our 3 Day Itinerary for Mexico City
Our itinerary uses the historic center of Mexico as our base. Many of our recommendations have public transit directions from Centro Histórico if you also choose this neighborhood.
Day 1: Arrival in the Centro Histórico from the Airport
Traveling to the airport by metro is not hard but does take a few transfers. About a 10 minute walk from Terminal 1, you will first take line 5 (the yellow line) towards Pantitlán.
At Pantitlán you transfer to Line 1 (the pink line), in the direction of Observatorio, getting of at Isabel La Católica if you don't mind a walk, For less walking, transfer one more time at Pino Suárez to Line 2 (the blue line) in the direction of Cuatro Caminos.
If you choose this 3rd transfer, you will get off at the stop Bellas Artes, which is minutes walk from Chinatown, where we stayed, or the Zocalo.
If you prefer a bus, you can also take the Metrobus, line 4 in the direction of Buenavista. The bus takes a bit longer and is a bit more expensive ($1.50 versus a quarter) but requires fewer changes.
You do need to get a rechargeable ticket to ride the bus. See our section on the Metro Card. However, there are vending machines near entrance 7 in Terminal 1 and Entrance 2 in Terminal 2.
Afternoon of Day 1: Spend Time in Palacio De Bellas Artes and then The Zócalo, for sights and dinner
Palacio De Bellas Artes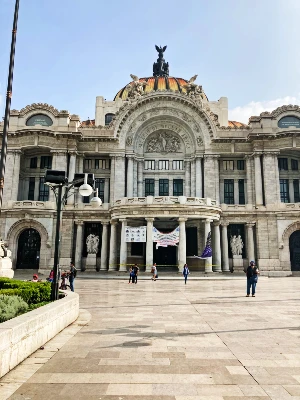 A prominent cultural center, the Palacio, is known as the Cathedral of Art of Mexico City. The styles of the building make it a architectural wonder. With the exterior having a neoclassical design and the inside all styled in Art Deco. And its golden roof is emblematic of Mexico City.
But inside the Bellas Artes is a world-class art museum. With over 20,000 holdings, there is certainly something here to speak to you after a long day of travel.
The Zócalo
The Zócalo is the common name Plaza De la Constitución, or Mexico City's main plaza. In the Zócalo, you can see the Metropolitan Cathedral. The cathedral is the oldest and largest in all of Latin American. And certainly worth a stop.
Right next to the Metopolitan Cathedral in the Zócalo is the Templo Mayor. The Aztec temple was destroyed by the Spaniards. What remains is a collection of ruins and a museum.
Near the Zócalo, is the Palacio Nacional. Home to the Mexican President, the site is most visited to see the amazing murals by Diego Rivera.
Where to Eat in the Zócalo
After a full day of travel and numerous sites, you will definitely be ready for some good eats and good views. While we don't normally eat out as part of our budget strategies, we did eat at Balcon del Zocalo. While the restaurant was a bit pricey, with its view of the Zócalo, it's rooftop terrace is definitely a place for a drink if you don't want to swing for a meal.
Day 2: Coyoacán and La Condesa
Morning of Day 2: The Frida Kahlo Museum
The next morning we recommend starting bright and early in Coyoacán on an Airbnb experience that includes entrance to the Frida Kahlo museum. Typically, we are not the tour types, but, as I wrote earlier, the tour turned out to be one of our best experiences in Mexico City. You can read a full description of the bike tour in a previous post.
The benefit of this bike tour was not only a tour of the historic Coyoacán, which was lovely. Nor was it the delicious food of churros in the morning, followed by lunch of tostadas in the Mercado Centrale, which were amazing. No one of the greatest perks of this tour is that you get to cut the line at the Frida Kahlo Museum.
If you don't take the tour, know that the line into the museum can be pretty long. The day we were there it was wrapped around the building.
Getting to Coyoacán on Public Transit
As I stated earlier, one of the reasons we chose the historic center was its location and ease of access to public transit. We traveled to and from Coyoacán by metrobus.
From Palacio de Bellas Artes it is a 4 minute walk to Calle Indepencia, where you will take Bus 1 southbound. The ride will take you about 40 minutes. Your stop in Coyoacán is Xicoténcatl. From your stop it is about a 14 minute walk to the Frida Kahlo museum.
Afternoon. After the tour, we took the metro bus back to the Historic Center and explored in and around the Palacio De Bellas Artes. My main regret in being in Mexico City for such a short time is that you can see so few of the numerous museums the city has to offer.
The Palacio De Bellas Artes is well worth the visit, especially if you are staying in El Centro. The museum we most regret not being able to see was the National Museum of Anthropology. Located in Chapultepec Park, which is the Central Park of Mexico City, the museum is said to be a must. Next time.
But alas, by the time we had explored Coyoacán and the Palacio, we were too late for the Museum of Anthropology, so we decided to do our favorite thing: bike.
Day 2 Afternoon: Explore La Condesa on Biking
Given Mexico City's enormous size, it may not seem like a bike-friendly city. However, that belief couldn't be more false. The city has not only allocated bike lanes all over the city, they have also set up a bike share program called Ecobici to make riding accessible and inexpensive.
Since we were in Mexico City for such a short time, we got a 1-day Ecobici pass. The pass was $5.50 and allowed us to take unlimited 45 minute rides. So we grabbed rented bikes at an Ecobici stop just 3 blocks from our Airbnb and rode to the neighborhood of La Condesa.
The bike ride from the historic center to La Condesa is just 20 minutes. And with 25 minutes still left on your Ecobici trip, La Condesa is the perfect place to pedal around.
After a lovely ride through the tree-lined streets, we stopped at Amantoli Tap House to appease Matthew's hop addiction. The bar had enough craft beers or in Spanish "cerveza artesanal" to please even the most discerning beer connoisseur, and it's open air courtyard was a lovely place to wind down after a full day. It shares its courtyard with a small restaurant and a wine bar, so wins across the board.
If biking isn't your thing or if you aren't interested in a day in Condessa, two other must do activities in Mexico City are floating gardens of Xochimilco and the National Museum of Anthropology.
Day 3: Day Trip to Tenochitalian
If you are going to Tenochitalian, plan to get moving early. If you are booking a tour–and most people do–the majority of tours leave between 6 or 7 in the morning. There are some tours that include tequila tastings and some tours that do not. Regardless of how you want to tour, it will start early.
We opted to go to Tenochitalian on our own using public transit. There are times in a travel blogger's life where you must give credit where it is due and this is definitely one of those times.
We used Becky Pokora's blog on visiting the site without a tour to help us navigate the public transit. And if you decide to go this route, I recommend you do the same.
The bus to Tenochitalian was an experience in itself.
About 20 minutes from the site, the bus stopped seemingly on the highway in the middle of nowhere to pick up several people. Two musicians boarded the bus and for 15 minutes we were serenaded. It was one of those unique experiences that only happen when you travel by public transit. 
We arrived at the site around 10 a.m. If you don't go with a tour, you can pick up a local guide at the site. Again, we chose to go it alone. We are positive we missed out information by not selecting a guide, but we were just in one of those "go it alone" moods.
In the end, the signage throughout the site gave us a lot of information, and we left the site feeling informed and inspired at this architectural and cultural marvel.
After a full day at the site, we arrived back in Mexico City around 4 p.m. Too late to see the museum and too tired much of anything else, so instead we had a drink on our rooftop deck and dinner in our neighborhood restaurant, Testal. A delicious place to have our last dinner in Mexico City
FAQs
Is 3 Days Enough in Mexico City?
While you can definitely spend more time in Mexico City, three days offer enough time to spend two full days exploring the neighborhoods and countless museums and one day to day trip to Tenochtitlan.
Is Mexico City safe?
Yes. Although tourist traveling in any large metropolitan area need to be aware of their surroundings. And Mexico City is no different.
While crime was down in Mexico City in 2022, travelers need to travel smart, including staying in more touristy neighborhoods like El Centro, Condessa, Roma or Coyoacán.
Solo travelers should also avoid being out a night alone.
How do tourists get around Mexico City?
While many travelers to Mexico City use Uber or taxi's, Mexico City's public transit, especially its Mexico, is excellent.
If you are a solo female traveler, the metro has women and children only cars during peak times to increase safety and security.
Mexico City also has a city bike program, called Ecobici, that is very inexpensive. The program has numerous bike stations around the city, particular in the tourist areas.
If you are looking for more Mexico destinations, we took on Ensenada as a family and had some great adventures.