Looking for suggestions for fun things to do in Mexico City with teenagers? Well, look no further.
Mexico City is a vibrant, historically and culturally rich, and diverse city that offers a wide range of attractions and experiences for all visitors, including teens.
The city has a rich cultural heritage, with numerous ancient Aztec ruins, colonial-era architecture, and world-class museums.
There is also an excellent food scene, with an abundance of traditional Mexican cuisine and modern restaurants.
Mexico City is not all bustle. The city is also home to many parks and public spaces, providing a respite from the bustling city.
The city's size and variety make it an excellent destination for teenagers because of its mixture of history, culture, and adventure.
And we should know. We have traveled to over 20 countries, including Mexico and Mexico City. We absolutely love this city, and can't wait to tell you why it is perfect for your next trip with your teenager.
Let's get started.
Some of the links in this blog may be affiliate links. If you click and purchase, we will receive a commission at no extra charge to you.
Want the highlights? Our favorite thing to do in Mexico City is take a bike tour.

Our #1 recommendation for where to stay is The Puerta Alameda Suites, a great choice for families in the historic center.
Fun Things to Do in Mexico City with Teenagers
One of our favorite things to do in a new city is to take a bike tour. Traveling by bike allows you to see more of the city. We often return on foot after a bike tour to our favorite spots.
We also recommend adventurous activities as one of our best tips for traveling with teens and this tour was an excellent choice.
Our favorite bike tour in Mexico City is the tour "Frida VIP, Bikes & Churros" tour. The tour allows you to skip the 2-3 hour line at Frida Kahlo's Blue House museum.
We also love that the tour stops at a local market so you can try some delicious aguas frescas and tostados.
You and your teen don't need to be an excellent bike rider for this tour. The rides are fairly short and the neighborhood of Coyoacán is flat.
If you have limited time in Mexico City or want a unique experience, we can not recommend it more highly.
A visit to Mexico City must introduce your teen to the life and work of Frida Kahlo.
You do not need a tour to visit the Museo Frida Kahlo. The cost to enter the museum without a tour is about half the cost than with a tour.
Why pay double for a tour? The line to get into the museum can be 2-3 hours on the weekends.
With a tour, you skip the line. You also have tickets in advance to know it won't sell out.
Depending on how much time you have in Mexico City with your teen (and how patient they are to wait), you can either buy a ticket at the museum or take a Blue House tour.
3. Visit the National Museum of Anthropology
The National Museum of Anthropology in Mexico City is a must-visit destination for anyone interested in learning about the rich cultural heritage of Mexico and the ancient civilizations that inhabited the region.
The museum is one of the largest and most comprehensive anthropology museums in the world and has an extensive collection of artifacts, ranging from ancient Aztec and Mayan art to objects from the civilizations of Oaxaca and the Gulf Coast.
Your teen can admire stunning and valuable objects such as the Aztec Calendar Stone and the Maya tomb of Lord Pakal the Great.
The museum also provides insight into Mexico's rich history and the development of its civilizations through interactive exhibits and displays.
Overall, visiting the National Museum of Anthropology is a unique and educational experience that offers a glimpse into Mexico's fascinating past.
The visit should be high on the list if you are traveling to Mexico City with teenagers, but also a great stop for families in Mexico City with younger kids.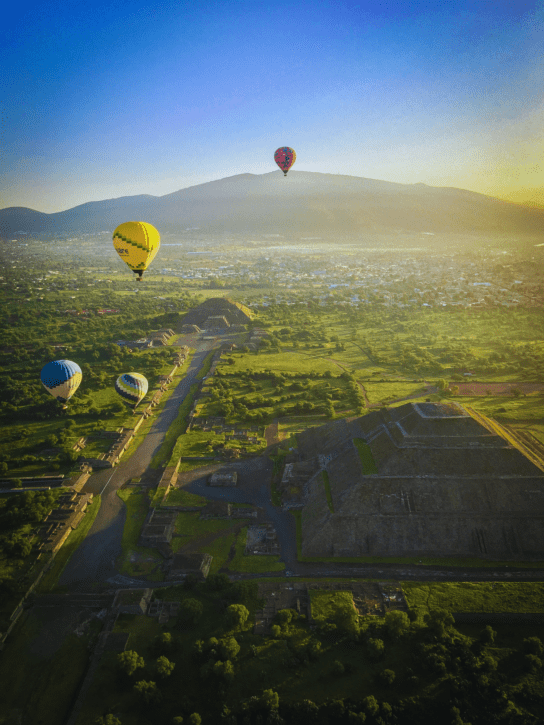 If you are looking for a unique activity in Mexico City then look no farther than a hot air balloon ride over Teotihuacán.
A bucket list experience for you and your teen, the tour transports you from Mexico City to the ancient city. At Teotihuacán, you board a shared balloon and soar over the valley. The ride is 30-50 minutes depending on weather.
The tour includes your transfer from Mexico City, the balloon ride, a light breakfast, and drinks.
AMAZING EXPERIENCE! Do not hesitate to book this hot air balloon tour, it was simply amazing and worth every penny, everything was perfect! Pick up, experience, staff, so worth it!
There are several companies that offer this tour. Volare is top rated and won the 2022 Viator Excellence award. The tour takes 5 hours.
Pick ups start early — between 4:45 and 6 a.m. But if you are willing to get your teen out of bed, this experience is truly one of a kind.
One of the great things to do in Mexico City for young adults is to try traditional dishes like tacos al pastor, churros, and pozole.
Visiting Mexico City's markets is a great place to try local food.
La Merced Market is Mexico City's most famous market. Near the historic center, La Merced is an excellent stop to walk the stalls of the market and try all the food that the city has to offer.
Mexico City also has several excellent food tours. The Historic Center food tour is perfect to taste a variety of Mexican Cuisine. The tour stops not only at the market, but also offers bites from a traditional cantina and restaurants.
After this half day tour, you and your teen will have gained a full appreciation for the food and culture that makes Mexico City so special.
6. Attend a Cultural Event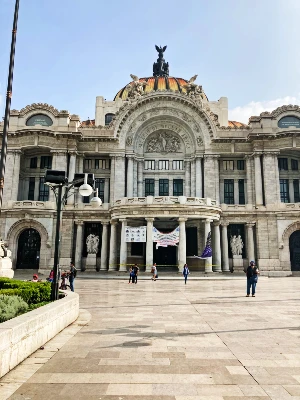 Enjoy a concert or performance or exhibition at the Palacio De Bellas Artes.
The Palacio de Bellas Artes is a cultural center that hosts a wide range of performances, including classical music, opera, theater, ballet, and other forms of dance.
Additionally, it is a popular venue for exhibitions, conferences, and special events. The Palacio de Bellas Artes is considered one of the most important cultural institutions in Mexico.
The theater has hosted performances by some of the most famous artists and musicians from Mexico and around the world, making it a must-visit destination for a teenager interested in the arts.
There are few experiences in Mexico City as unique as attending a Lucha Libre wrestling match.
Many of our activities could also be listed on a Mexico City with kids (of any age) post. Experiencing Lucha Libre or Mexican wrestling, however, is not one of them.
Lucha Libra is an activity in Mexico City for much older teens. In fact, the minimum age for this experience is 18.
The tour involves a Mexican cocktail, some salsa dancing, and then an evening watching the intense Mexican wrestling match. You even get your own Lucha libre mask to watch the spectacle!
The drinking age in Mexico is 18. We certainly understand that not all families are comfortable with an experience that involves alcohol.
You can certainly choose if you want to allow your teen to drink, but regardless, they must meet the minimum age for this experience.
Free Things to Do in Mexico City with Teenagers
Okay, "free" is a bit of a misnomer here. Free Walking Tours are technically free, but it is common to tip $10-$15 per person.
Every day at 11 a.m., Estacion Mexico offers a free walking tour of the historic center.
The tour will introduce your teen to the major landmarks and important history of Mexico City.
If you don't take our recommendation to take a bike tour, a walking tour is a must-do experience in Mexico City for teens.
The tour takes roughly 2 hours and 30 minutes. The meeting point for the tour is just in front of the Metropolitan Cathedral near the Zocalo. Look for the guide's bright pink shirts; they are hard to miss!
Mexico City has been home to important street art since Diego Rivera began creating large murals in the city in the 1930s.
Since then Mexico City has become known for its vibrant street art scene, with many colorful and creative murals and installations displayed throughout the city.
Mexico City's street art was once confined to wall murals. What makes street art unique in Mexico City is that it is often found on the metal roll up gates that protect stores and business.
Combine your teen's sense of adventure with a biking street art tour. The 3 hour tour takes you through numerous parts of Mexico City to see the unique street art.
The tour includes your bilingual guide, bike and helmet rental, and some snacks along the way.
10. Stroll Through Chapultepec Park
Chapultepec Park is a large urban park in Mexico City and a popular destination for both locals and tourists.
It is the largest city park in the world and offers a variety of attractions, including museums, lakes, gardens, and cultural venues.
Some of the notable attractions within the park include the Chapultepec Castle, the National Museum of Anthropology, and the Modern Art Museum.
The park is also a popular recreational area for activities that your teen will love such as jogging, picnicking, and boating.
If your teen is looking for a relaxing escape from the city and a chance to enjoy nature, culture, and recreation, Chapultepec Park is a must-visit destination.
11. Visit the Zócalo Square
Zócalo Plaza, also known as the Main Square, is a historic public square located in the heart of Mexico City.
It is one of the largest public squares in the world and a central gathering place for locals and tourists alike.
The square is surrounded by historic buildings, including the Metropolitan Cathedral and the National Palace, and is a hub for cultural and political events, festivals, and protests.
Visiting Zócalo Plaza is an opportunity to immerse your teen in Mexican history and culture, and to take in all the Mexico City vibes.
12. Catch a Museum Free Day
The Museo Soumaya is free everyday. A unique and highly regarded museum, the Museo Soumaya has an extensive collection of art and artifacts, including works by some of the world's most famous artists such as Auguste Rodin, Salvador Dali, and Pablo Picasso.
The museum building itself is a work of art. Known for its modern architectural design, it is a great cultural stop for your teen. Completely free!
The Palacio de Bellas Artes and the Museum of Modern Art also offer free admission on Sundays.
Day Trips from Mexico City with Teenagers
Teotihuacán is considered one of the most important archaeological sites in Mexico. Teenagers who have the chance to visit this important site will learn much, including:
Rich history: Teotihuacán was a major city and cultural center in ancient Mexico, and played a significant role in shaping the culture and religion of Mesoamerica.
Unique architecture: The city is famous for its impressive pyramids, such as the Temple of the Sun and the Temple of the Moon, which are architectural wonders in their own right.
Art and artifacts: Teotihuacán was a thriving cultural center, and you can see the evidence of this in the many artworks and artifacts that have been uncovered at the site.
Spiritual significance: For the ancient peoples who lived in Teotihuacán, the city was a sacred place of religious and spiritual importance.
We used a combination of the metro and public bus to visit the site on our own.
Most people book tours to visit the site. Tours tend to be full days of around 8 hours.
If we hadn't seen the site on our own, we would have definitely booked a private tour to the site.
A private tour is more expensive. Yet you can control how much time you spend at the sight.
The sight is impressive and worth several hours. However, group tours can spend too much time at the site making a private tour the best choice to see the ancient site.
14. See the Massive Sculptures of Tula
If your teen is interested in seeing a second archeological site, consider a day trip to Tula.
Tula is home to the ancient ruins of the Toltec civilization, including the Tula Archeological Site, which features impressive pyramids and carved stone monuments.
If you have a car, you can drive to Tula from Mexico City in just over an hour. It takes two hours to travel to Tula by bus. You can also take a private tour to Tula.
The tour includes hotel pick-up, all your transport, a bilingual guide, and entrance into the site. 
Tula is also known for its vibrant markets, which offer a wide variety of goods and provide a glimpse into the daily life and culture of the local people.
Xochimilco is technically a neighborhood of Mexico City. Yet, its distance from the historic center makes it feel much more like a day trip.
Xochimilco was part of the extensive network of canals and chinampas, or floating gardens. The canals were used for agriculture by the Aztecs and other indigenous peoples.
Today Xochimilco is known for its surviving canals, colorful trajinera boats, and traditional Mexican cuisine, music, and culture.
The festive experience makes floating on a Xochimilco boat a unique experience in Mexico City for teens.
Tourists float the canals, listen to Mariachi, drink some pulque, and take in the unique culture that is Mexico City.
Xochimilco is located 18 miles south of the historic center. You can travel to Xochimilco by public transit, using metro and light rail.
You can also rent a boat yourself without a tour. The cost is around $25 for an hour tour. The boats are big enough that you could grab another family and share the cost.
If you don't want to deal with all the public transit, there are inexpensive tours to the area.
The best tour to Xochimilco has a pick up at Bellas Artes, then drives you to Xochimilco to board a trajinera boat.
After your hour floating in the gardens, the tour carries on to Frida's Blue House in the Coyoacán neighborhood, and then provides transportation back to the city center.
All the transport, including the trajinera ride, is included in the inexpensive price. The tour does not include your admission to the Frida Kahlo Blue House museum, however.
How to Travel Around Mexico City With Your Teen
Getting To Mexico City
Mexico City's (MEX) airport is 10 miles from the historic center.
You can take the metro from the airport to the city center. The trip takes about 35 minutes and at a cost of less than $1 is the least expensive way.
The trip by metro is the least expensive and fairly easy to navigate, but it does take a train transfer from the #5 to the #1.
You will also need to walk to the metro station from the airport. The station is about a 5 minute walk from Gate A.
The fastest way is to travel via ride share or taxi. The trip takes about 25 minutes and costs around $15 US dollars.
The Metrobus is the most convenient. You simply grab the bus out in front of either of the airport's two terminals. Arriving by the metrobus does take the longest at 45-50 minutes, but there are no transfers. This option is only slightly more expensive than taking the metro.
Getting Around Mexico City
Using public transit is just one strategy among many of our family budget travel tips.
Public Transit in Mexico is inexpensive and easy to navigate, especially the metro. You do not need a car to travel with your teenager in Mexico City.
Mexico City has a very comprehensive metro system with 12 train lines that criss-cross the city.
Mexico City metro lines are both numbered and color coded. For example, line 1 is the pink line and line 7 is the orange line.
The metro is very well sign posted and easy to navigate. Traveling using public transit in Mexico City is also very inexpensive. The fare for riding the metro is 5 pesos for one trip. Roughly .25 cents US.
There are two important things to know when you are new to Mexico City's metro system.
The first thing to know about riding the metro is that they don't announce stops. Pay attention while riding so you don't miss your stop.
Second, the metros can get very busy during peak times and do have a history of sexual harrassment. Mexico City has set aside some cars during peak times for women and children.
These segregated cars are to help prevent sexual harassment. The need for these cars is worrying when you are traveling with your teenagers.
While sexual harassment is in decline in Mexico City, you will still want to take precautions when traveling.
The public transit system also includes the Metrobus and Ecobici city share bike rentals.
Where to Stay in Mexico City with Teenagers
The best neighborhood in Mexico City is debated. We certainly have our opinions about the best neighborhoods to stay in Mexico City.
When traveling with a teen, we think the Centro Histórico is the best neighborhood. The neighborhood is close to the Zócalo, which is the heart of Mexico City.
When traveling with teenagers, it is important that everyone has their own space. The Puerta Alameda Suites is a great choice for families in the historic center, and our #1 recommendation.
Located in the historic district, the hotel has 1, 2 and 3-bedroom suites. The accommodations are reasonably priced. There is a great terrace deck and all the units come with a washer and dryer. 
However, many travelers to Mexico City chose to stay in either La Condesa or Roma. These neighborhoods are especially popular with solo travelers. Families will also love their green spaces and great places to eat.
Just outside of La Condesa is Grand Chapultepec Residencial. The hotel has 1 and 2 bedroom apartments that are within walking distance of the Chapultepec Park and the Museum of Anthropology.
The hotel is very reasonably priced and has all the amenities a family with teens would need, including a fully equipped kitchen, and washer and dryer. The hotel's great location makes it an excellent choice for families that want to be out of the city center.
We are also big fans of Coyoacán (which means place of coyotes in Nahuatl). Formerly a rural village that the city grew into, Coyoacán is a quiet pocket of art and history.
Coyoacán is also home to Frida Kahlo's Blue House. However, Coyoacán is a bit further out than La Condesa, Roma, or the Centro Histórico so it may not be for everyone.
Frequently Asked Questions
What is the legal drinking age in Mexico City?
The legal drinking age in Mexico City is 18.
Is a trip to Mexico City worth it?
Absolutely. Mexico City has world class museums, beautiful green space, and two UNESCO world heritage sites.
How many days should you spend in Mexico City?
Want more ideas on traveling with teenagers?